About Us
THE TEAM
Your number one source for the best flying experience ever. We're dedicated to giving you the very best of discovering the dream of flight and to learn all the best flying techniques, with a focus on dependability, customer service and uniqueness. Founded in 2018 by #TheBraffs. The whole LUXFLY is driving by passion for flying in all kind of ways : indoor skydive, skydive, basejumping, paragliding, speedriding, planes, drones,…. Our hard work turn this inspiration into to a booming, luxury and passionate windtunnel.
We now serve customers all over the world, and are thrilled to be a part of the flying world of the leasure industry. We hope you enjoy our service and our activity as much as we enjoy offering them to you. If you have any questions or comments, please don't hesitate to contact us.
The construction of LUXFLY SKYDIVE
Begun in May 2019, this project is inaugurated in july 2020.
A 40 meter high concrete monolithic architecture building, which is one of the highest simulators in the world, can accommodate up to 25 people simultaneously. The flight chamber 15 feet or 4.5 meters in diameter consists of a set of glazed walls of 8 meters in length and a passable height of 32 meters. Not only! Our complex is equipped by different premises that offers each of the various services The entertainment facilities at your service included:
bar,
rest room,
Fully equipped meeting and training rooms,
changingrooms(men / women) with toilets,
shop
relaxation area around the flight chamber.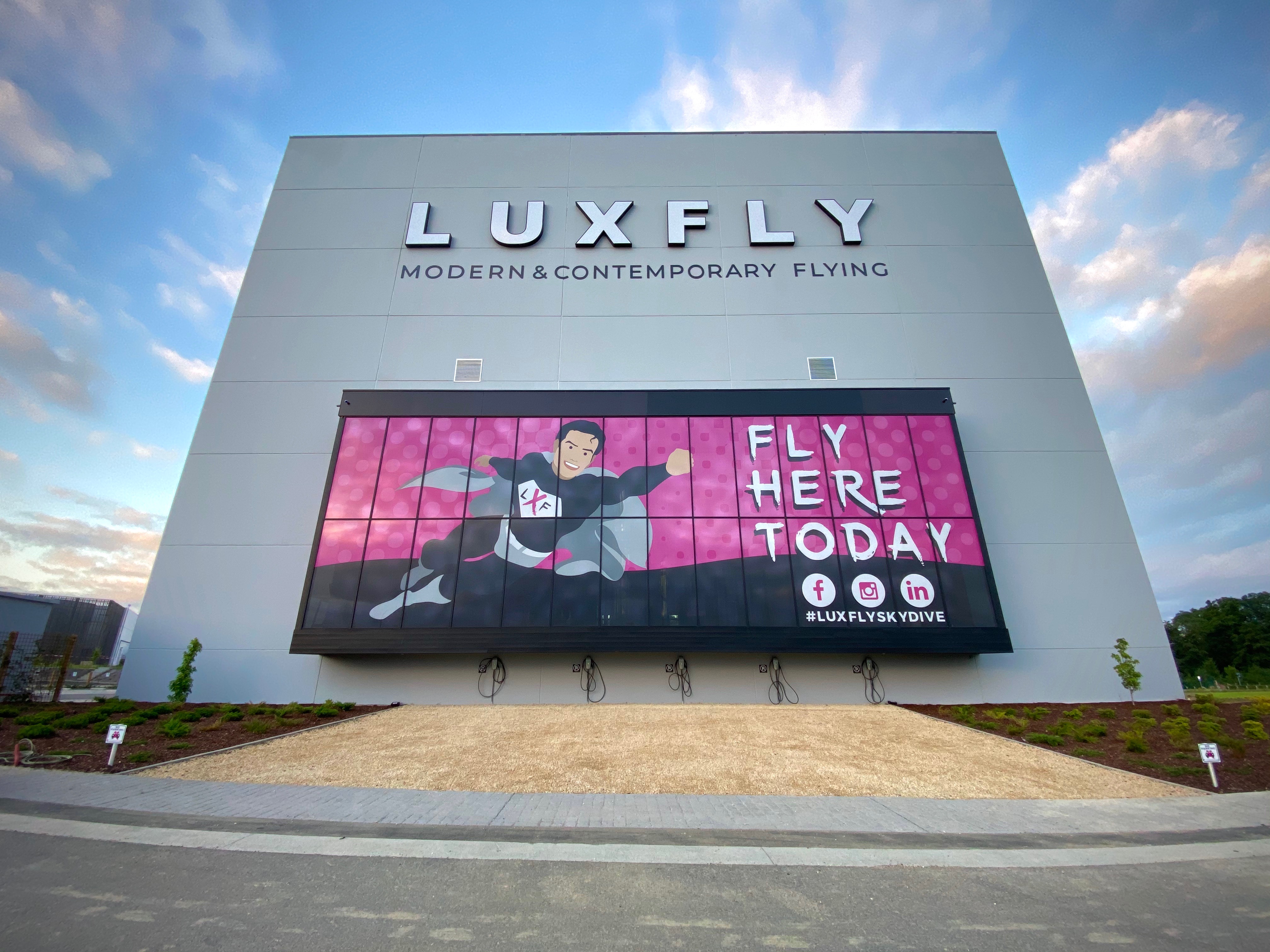 The founders of this gigantic project
Steve & Magali Braff - #THEBRAFFS, the founders of the first free fall simulator in Belgium and founders of LUXFLY SKYDIVE are experienced skydivers.
Together, they made more than 10,000 plane jumps, different world records in and hundreds of flying hours in the air.
They wanted to transmit you their passion which gave them the opportunity to realize such a profession full of success and enthusiasm. It is for this reason, they wanted mainly to share the oldest dream: FLY.
They also manage a consultancy company: "STARFLY" that helps develop leisure projects around the world. From the beginning, they are constantly innovating to make free-fall simulators even more sophisticated and more developed. All of their technological, construction and operational advances allow them to provide the best airspace possible and create the most exciting flying experience in the world. STARFLY tunnels are also more and more ecological!
A project realised by www.starfly.world
Starfly builds and operates high quality vertical wind tunnels for indoor skydiving. Our company aims to be the reference for all the human flight concepts.